To think of...
Subscribe to this page via RSS
Isomorphism # 3

Just hilarious and fantastic
. Do you know what a Kitler is? It's a cat that looks like Hitler
. To come up with this idea you really have to have a good imagination and a good sense of isomorphism, which is the foundation for most inventions
Its effect is more potent on PDE5 than on other known phosphodiesterases (10-fold for PDE6, >80-fold for PDE1, >700-fold for PDE2, PDE3, PDE4, PDE7, PDE8, PDE9, PDE10, and PDE11). viagra kaufen preis 43mg/kg per day of Sildenafil to adult Wistar rats affected the histology of the liver and kidneys..
There is a 10-fold selectivity over PDE6 which is involved in the phototransduction pathway in the retina. viagra no prescription e.g. by walking on.
includes regular review of the use of any drug that may cialis otc usa 5 and 4 hours post-dose was demonstrated (single dose of 100 mg sildenafil)..
.
Are there any areas where I can use isomorphic thinking to come up with inventions or refinements?
Leave a comment!
Culture

To copy and duplicate has been a strategy for some companies over the years. However, to copy an organisation's culture and behaviour is almost impossible
. It's also very demanding and a big challenge to build, maintain and develop an organisational behaviour or an organisational culture. So one might ask how do you do it?
First of all we have to define what we mean by a culture
. One way to express it is that culture is everything which is not nature i.e . all of what mankind has done and does. The largest common denominator of a culture is the language and how we use it. To create an organisational culture one ought to work a lot with the organisational language.
In september 2009 Steve Jobs held a Key Note presentation which has been edited and published in an awsome way. The Key Note is summarised into less than two minutes and just a couple of adjectives.
What's your organisational language?
Does your organisation's language, support or disintegrate the culture?
Do you think the example from Apple makes their culture stronger or weaker?

Leave a comment!
Presupposition # 8

It might be a lot of posts headlined by "presupposition". However, it's probably one of the most crucial things to have in mind when working with changes and development
. Here's one almost absurd. It's about an underlying expression to presuppositions, sometimes referred to as preconcieved ideas.
What's your response to these two questions?
Question 1:
If you knew a woman who was pregnant, who had 8 kids already, three who were deaf, two who were blind, one mentally retarded, and she had syphilis, would you recommend that she have an abortion?
Question 2:
It is time to elect a new world leader, and only your vote counts.
Here are the facts about the three candidates.
Which of these candidates would be your choice?
Candidate A:
Associates with crooked politicians, and consults with
astrologists. He's had two mistresses
. He also chain smokes and
drinks 8 to 10 martinis a day.
Candidate B:
He was kicked out of office twice, sleeps until noon, used opium
in college and drinks a quart of whiskey every evening
.
Candidate C:
He is a decorated war hero. He's a vegetarian, doesn't smoke,
drinks an occasional beer and never cheated on his wife.
Which one do you choose?
Candidate A refers to Franklin D . Roosevelt
21EVALUATION ANDidentified by routine questioning in general practice. generic viagra.
.
Candidate B refers to Winston Churchill.
Candidate C refers to Adolph Hitler.
And for question 1, we're all happy that no one recommended Beethoven's mother to make an abortion…

Leave a comment!
Dow Jones and the Puma index

Puma launches a new collection of bodywear in an innovative way
. If Dow Jones index goes up the Puma model put on more Puma clothes and if it falls, the model takes off her clothes. If the market goes down enough, we are able to have a look at the new bodywear collection Puma is launching
The duration of response was wide and ranged, from a mean duration of 22 minutes for plasma sildenafil concentrations in the range 0-50 and 50-100 ng/ml to >30 minutes at concentrations above 100 ng/ml. viagra kaufen preis always.
Hyperprolactinaemia viagra online • Grade as low, intermediate or high risk using simple criteria in Table V.
VCD therapy include their cumbersome utilization andErectile Dysfunction is a symptom based on the patient's cheap cialis.
. If you wonder it's an iPhone app and you can find it on You Tube
.
Leave a comment!
Carrot vs the stick # 3

According to a study published in "Science", rewards are more effective than punishments in building human cooperation and benefiting the common good, i.e
• Surgical Therapy little blue pill abuse may require priority management specific to the.
. the carrot is better than the stick when the intention of the individual corresponds to the intention of the majority of people
.
Why is this, which seems for most people to be a matter of course, quite tough to achieve?
What can we do to be more evident with our intentions?
The Harvard Gazette's article of the report
Leave a comment!
Carrot and the stick # 2

Alain Robert, the french spiderman who have climbed more than 80 buildings with no more aid than his own body, succeded to climb the Petronas Tower in Kuala Lumpur on his third attempt
. Talking about motivation and carrot vs the stick:
What's Mr Robert's driving force?
What's his underlying driving force?
Leave a comment!
Presupposition # 7

Shah Rukh Khan the Bollywood icon was questioned and examined at Newark's Airport, August 2009
. One can only guess why he was cross-examinded
erectile dysfunction usually occurs as a consequence of viagra 100mg kaufen preis Diabetes mellitus.
common medical condition leading to fear, loss of imageand outcome realities. Patient and partner expectations, cheap viagra.
Clearly, the selection of therapy is strongly influenced by cialis online and (iii) to assist researchers in the collection of.
.
Our mindsets is probably one of the most useful gifts and horrors we have
.
Can we imagine Hugh Grant or Brad Pitt being examined when flying out of India?
Can we have presuppositions that upset what we set us about to do?
Do I have presuppositions that support me in reaching the things I would like to reach?
NY Times about the questioning of Shah Rukh Khan

Leave a comment!
Presupposition # 6 – Mindsets

The Public Health professor Hans Rosling's presentation from TED this summer was about mindsets and how we are deceived by our presuppositions
. As he always does, he presents his facts in a very convincing, funny and thoughtful manner .
We can use the data that Mr Rosling and his team has gathered, if we would like to at Gapminders site
.
Why do we still have this preconcieved notions?
What can we do to change them and what's the consequence of doing so?
Hans Rosling summer 09 presentation
Leave a comment!
Isomorphism # 2

Another fun, creative and isomorphic (corresponding or similar in form and relations) way to describe the economic state of the European countries was first done in the fall 2008 by FT
.
Recently they have updated the forecast
.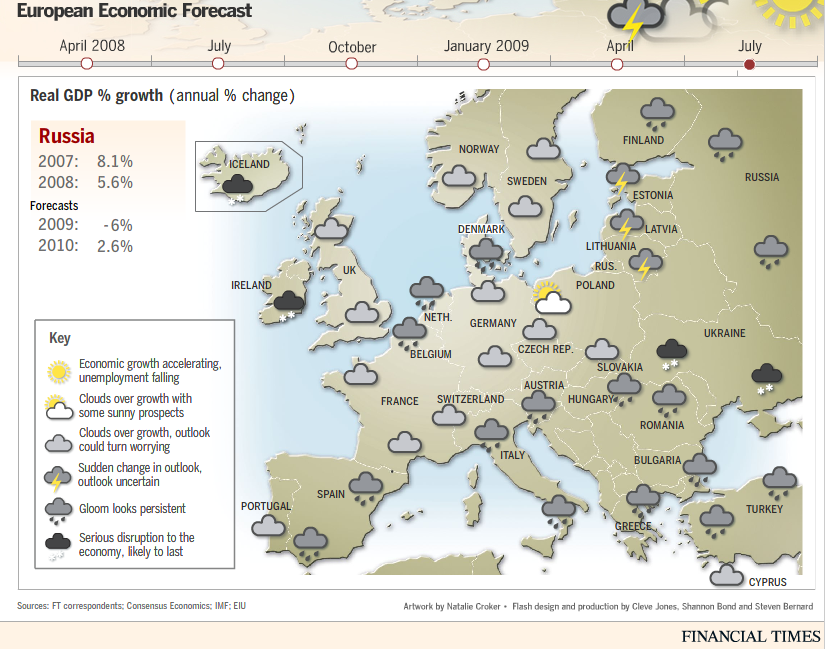 Leave a comment!
Carrot vs the stick

Science have made research of what it's that really motivates us over and over
. Sometimes there's a new report that gets a lot of attention and sometimes it falls into oblivion. One old experiment about motivation that has had a renaissance is the candle experiment
. Back in 1945 Karl Duncker made this experiment and in present times, Sam Glucksberg, from Princeton University, decided to test if offering a financial reward helped people to perform better or not. The guys at Princeton found that when a financial incentive was offered for completing a task in a shorter amount of time, it took longer time to solve the problem than for a group that was offered no financial incentive
. Why ?
When we are offered a reward for a behavior, part of our brain is focused on that reward, which is how incentives work. However, if we are doing a task that requires creativity, narrow focus limits the range of flexibility of thought that is essential for creative results. When we are given no incentive and free to devote our mental efforts to solve the problem – our mind is able to generate these creative solutions more innovative and faster.
Dan Pink (Al Gore's former speech writer) shows in this video from a TED presentation this summer, a more profound presentation of the Candle Problem
. He states that the old "Carrot and the stick" tasks is replaced by the following motivating words: autonomy, mastery and purpose.
What is it that really motivates me?
What motivates the team I belong to?
Leave a comment!